Review: To All the Boys I've Loved Before
12:30 PM
Okay. PANIC TIME. I completely forgot to publish yesterday's post. *begs for mercy* You may or may not have noticed that I started posting on Sundays and Wednesdays. Buuut, yeah, kinda forgot. Oops. In conclusion, once again SORRY and this is my 200th post yay!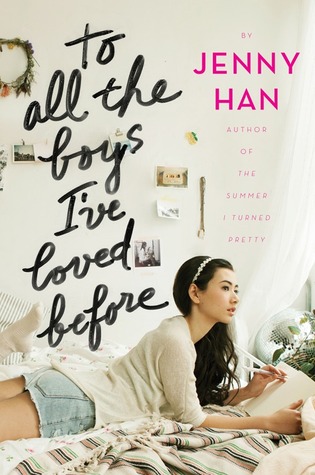 To All the Boys I've Loved Before

by Jenny Han

Publication date: April 15, 2014

Publisher: Simon & Schuster Books for Young Readers

Format: hardcover

Source: me

Pages: 355




To All the Boys I've Loved Before is the story of Lara Jean, who has never openly admitted her crushes, but instead wrote each boy a letter about how she felt, sealed it, and hid it in a box under her bed. But one day Lara Jean discovers that somehow her secret box of letters has been mailed, causing all her crushes from her past to confront her about the letters: her first kiss, the boy from summer camp, even her sister's ex-boyfriend, Josh. As she learns to deal with her past loves face to face, Lara Jean discovers that something good may come out of these letters after all.

####




This book was the epitome of fluffy, romance-filled contemporary. But I loved it. :) That's

pretty

rare for me so here's a list of the things I liked and didn't like.
things I liked
1.
Lara Jean was quirky.
She hated driving. She knew how to cook, but only some things. She wasn't the best big sister but she tried. She had kind of a cutesy, hippie style of dressing. She didn't have a lot of friends, but the one she had was her complete opposite. When I read about her, it felt like she could be me or some other average girl with realistic fears and thoughts. It was great!
2.
It dealt with crushes and love and guy problems.
But realistically. Lara freaked out about little things. She didn't know how to interpret what a guy meant by what he said or did.
How do I make you see how real this is for me? What are guys? How do you even talk to them?
3. Even though
To All the Boys I've Loved Before
is basically YA contemporary romance,
family was a huge part of it
. The family was super close. The three sisters looked out for each other and their dad. It was them against the world.
things I didn't like
1. Not much. I mean, the book served it's purpose. It was exactly what is was supposed to be. I guess the only part I have to get on a little bit is I NEED TO KNOW MORE. Who said it was okay to end the book there. I need each of the characters' life stories.
2. Also, if I'm going to really nitpick here, some of the secondary characters were very cliche. Like the typical popular girl who gets the popular guy and is mean and possessive. But that wasn't a big deal because the story was told really well. :)
Overall, this book was a really great, relaxing read (as compared to my usual paranormal or dystopian). I really liked the characters and the way that the author portrayed regular life in a totally believable, interesting way.
my rating:
Disclaimer:
I was not reimbursed for this review in any way. All opinions or thoughts expressed are my own.